A hIlarious hypnosis show for healing & happiness
"LUCID LIVING"
A Hypnosis Show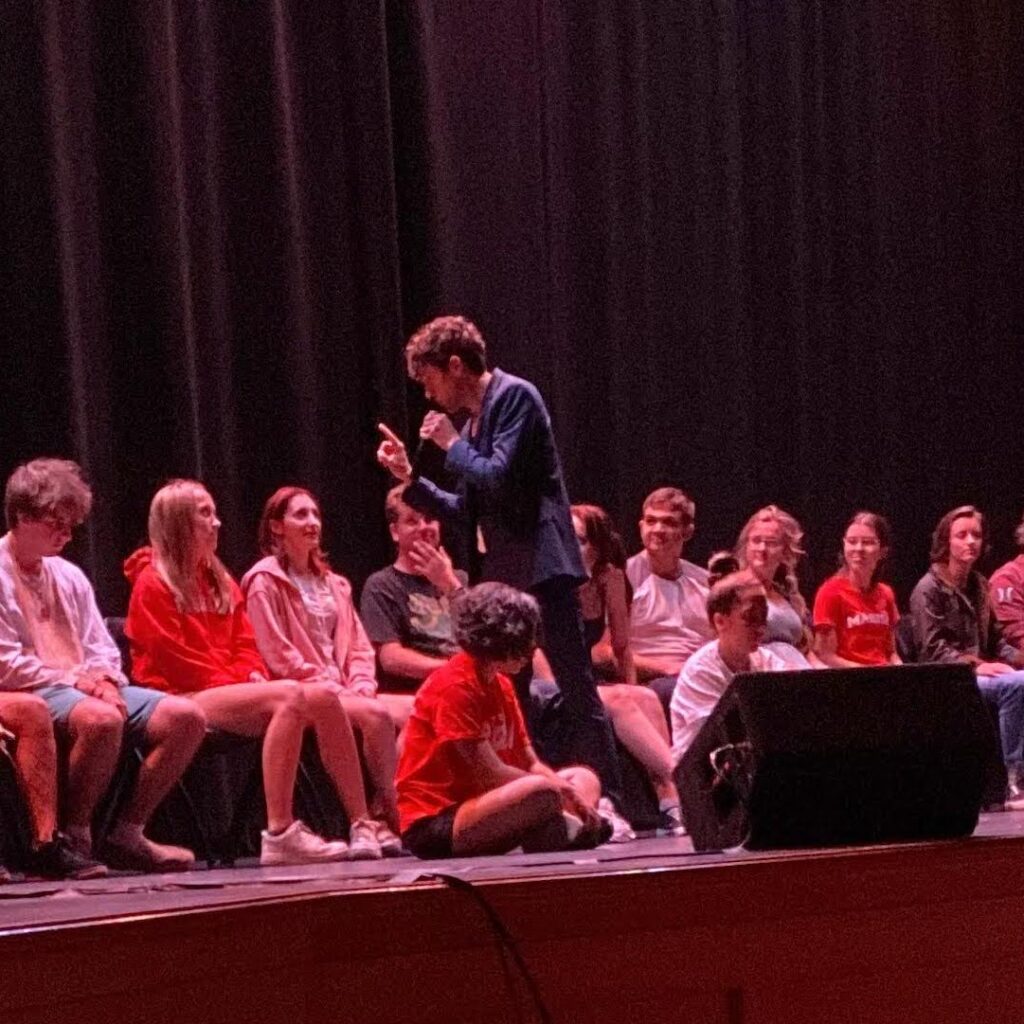 Welcome to Lucid Living, the show that will change the way you see hypnosis and yourself. I'm Evan Gambardella, and I'm your friendly neighborhood hypnotist–here to take you on a journey of comedy and healing like no other.
Hypnosis has always been divided into two camps: therapeutic and comedic. But why choose one when you can have both? Lucid Living is the first show that combines the best of both worlds. It's a show that will make you laugh, make you think, and make you feel good.
In today's world, we all need a break from stress and anxiety. We all need entertainment that goes beyond superficial fluff. We all need an experience that nourishes our minds and souls, while at the same time is wildly entertaining. That's what Lucid Living is all about. Instead of just dessert, you get a full course meal.
This is a show that will have you on the edge of your seat: It's mysterious. It's inspiring. You'll witness friends, family, and colleagues doing the most unimaginable things:
Dancing like ballerinas, flying on magic carpets, and overcoming phobias. It'll be something you'll remember for the rest of your life.
But here's the best part—you are always in control. There's no pressure to be hypnotized. No one is forced to be hypnotized. No one leaves feeling embarrassed or ashamed. And because the show comes at all the entertainment from a therapeutic angle, it ensures that everyone, whether you're hypnotized or not, leaves feeling more relaxed and much happier than when you arrived.
Lucid Living isn't just hilarious and entertaining—it's a journey of self-discovery. You'll gain a deeper understanding of the incredible power of your own mind. And the performances of people you know, people that would never do these things normally, will blow your mind.
Lucid Living blends laughter, wonder, and infotainment into an unforgettable evening. It's a show that leaves you feeling refreshed, with a renewed appreciation for the untapped potential within you and within all of us.
So don't miss out and join me on this incredible opportunity to see the full spectrum of what hypnosis has to offer. And together, we can unlock the magic of our minds.
Evan performed his hypnosis show at my college this past month and he chose me to be a participant after I showed interest. To start, let me just say that Evan is INCREDIBLE at what he does! I went into hypnosis so easily and effortlessly because of him. Second, while I don't remember ALL the details of the show, I have a bunch of them saved on my phone and they are absolutely hilarious to watch! But I felt so incredibly relaxed the entire time would absolutely love to be a part of one of his shows again. Third, ever since the show, I have felt so much happier, joyful, fun, carefree, energetic, and confident in my daily life than I was before. One of the things I told Evan I needed help with was dealing with rejection with girls and being more confident in myself to ask girls out on dates that I like. I don't feel that sense of nervousness and anxiety that I did before with the thought of rejection… I feel eager and invigorated to talk to girls that I want to get to know better and find the person that I want to spend the rest of my life with. His show, being both comedic and therapeutic, allowed me and everyone else that participated to let go of all of those worries and anxieties that have been holding us back from reaching our full potential and becoming the best versions of ourselves. I feel different and in the best way possible, where I can become the best version of myself! Finally, forget Evan the actor, the magician, the famous hypnotist… Evan as a person is incredible. He is hilarious, motivational, fun, unselfish, caring, understanding, humble, personable, intelligent, and much much more. He cares about those that he helps.. he thrives off of seeing other people succeed and being able to be a motivation and a helpful hand to others. I'm so honored and thankful to be called a friend by Evan and he has done so much for me to help me become the best version of myself. I don't know if I could ever thank him enough! For anyone looking for any hypnotherapists to help you with something in your life, I can't think of another person that would be more helpful and willing to help than Evan! If you are ever wanting to be in a hypnosis show, definitely be in Evan's! Evan, thank you for all that you have done for me and all the people you continue to help!
"I literally cried because of how good I felt!!"
"I really enjoyed your show tonight! I like how you did the conventional "fun" hypnotizing activities but also put such an emphasis on how your subconscious mind... which not a lot of people are aware of. Thank you so much for coming tonight!!"
"I had other students asking me the same night if we could bring him back some time soon. His show was entertaining from start to finish. Plus, he stayed after despite how tired he must have been and talked to individual students if they wanted to discuss things they felt or saw during the show. We will definitely keep him on the short list for future events!"
"Evan was great! He was laid back, easy to work with, gave an extra long show, and delivered a performance that was more than simple comedy, but also a show that helped subconsciously heal those who were hypnotized, along with the audience. Thank you again!" -- Dylan, UW Oshkosh